Light 'n Go Yule Log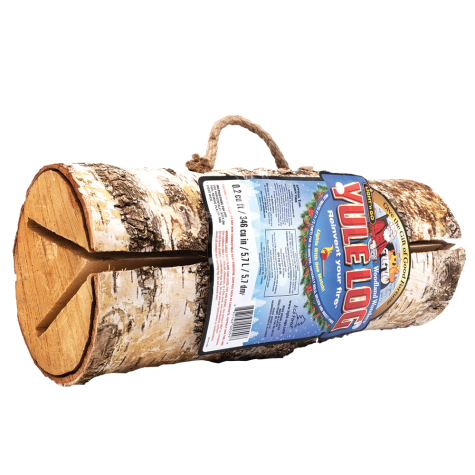 The innovative and patented Light 'n Go Yule Log is an engineered all-natural birch log, which can be lit with one match and enjoyed for one hour. Dressed with a handle and seasonal decoration, it is a fun holiday gift. It's easy to light and burn, indoors or out, for an instantly warm atmosphere. This holiday log can be enjoyed all winter in a fireplace or during the summer in a fire pit. According to Eco Forest, burning the Yule Log anytime will make enjoying a fire quick and easy and add cozy enjoyment to any setting.
Mildew-Free and Kiln-Dried
Where to buy
Lights Easily
The Light 'n Go Yule Log lights with ease and produces a large consistent flame. There's no need for added fluids or kindling. Just one match and you'll create an instant ambiance.
Quality Matters
The Light 'n Go Yule Log is 100% natural, with no chemicals added at any point in the manufacturing process. Firewood is kiln dried in heated chambers to meet the USDA standard for pest control.
Safe for Cooking
The Light 'n Go Logs are the only one-match logs safe for cooking.
The Perfect Gift
The Light 'n Go Yule Log is the perfect holiday gift for any host or hostess.
Commonly Asked
Questions & Answers
What chemicals are in the Bonfire Light 'n Go Log that makes it light and burn?
There are no chemicals in the Bonfire Light 'n Go Log. The Bonfire is lit by a natural wick made of paper board and vegetable stearin. The wick catches the log on fire. It continues to burn as a result of the patented engineering design which allows air to travel to the flame through the channels under the log.
Is it safe to cook over any of the Eco Forest firewood products?
All firewood products in the Eco Forest firewood line are 100% natural with no additives whatsoever and are safe for cooking.
Why is kiln dried better?
Kiln drying produces a better performing hardwood, while at the same time offering a pest free product.
What's the best way to start my fire?
Great ingredients make great fires. Use our Light 'n Go Alder Kindling or our Light 'n Go Lighterballs to start your Eco Forest White Birch or Simple Simon Mixed Hardwood. Please choose a location, indoors or out, which is suitable for burning.
More for your fire
You may also like